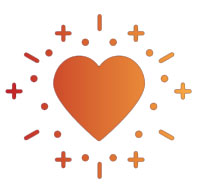 Salus Common Good License
Salus Common Good (SCG) license for health research data
Through a collective intelligence process we have created the first health data sharing license. The SALUS CG license allows you to provide health data, always in a seudonimized way, to advance research and for the common good. These are the conditions that must be met by all research projects that use the data to which the license is applied:
---
---
---

Health/Social Only
The data will only be used for biomedical research purposes and health and/or social studies

Non-commercial
The research projects will be promoted by entities of general interest such as public institutions, universities and foundations

Shared Results
All research results will be accessible openly and free of charge

Maximum privacy
All data will be used before any use

Total control
You can cancel or change the conditions of access to the data at any time
---
---
Do you want to use our license in your project?
Download all the necessary resources to be able to assign the Salus GG License to your research projects.
---
---
Sign up to receive the news!
We will keep you informed about our activities.